7 TYPES OF NYSC CDs MEMBERS
NYSC CDS is another opportunity for corpers to gather together and display the full range of their behaviour. We made a list of the types of people you'll find there. Which one have you come across? More importantly, which one are you?
1. Those who came to slay.
Of course they don't dress like this. But you get the idea that they are NEVER to be caught unfresh. Their khaki is always tightly-fitted and starched as stiff as a cardboard, their white tennis shoes are designers (Balenciaga / Balanciaga), their make up is always on fleek. Other accessories to know them by: sunglasses.
2. Those who came to market their side hustle.
They are the entrepreneurs. They sell everything: meat pies, pant and bra, earrings, waist beads, side bags, etc. Human needs vary, and they try to meet it. Makate must sell.
3. The number writers.
These ones came to write numbers for their friends. This explains why you will meet 50 people at the CDS venue, but the attendance sheet will have 150 names.
4. The geng.
They might not even slay as much, but they walk in cliques with their friends. Usually, they have cars. They will park at one side and when everyone is rushing, they stay chilling, sometimes drinking bottles of Alomo. Na NYSC dem dey do, dem no kill person.
5. The love birds (AKA Davido and Chioma, NYSC edition).
The name should tell you everything you need to know. PS: They're actually very annoying. "Baby," "Darling", is what you'll keep hearing. And then some of them never stop holding hands. Eww.
6. The Marlians.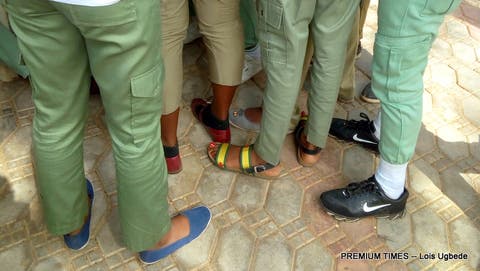 These ones no dey ever hear word. They always always disobey the NYSC rules of dressing. If they're not wearing the wrong shoes, they are styling the khaki wrongly. The LGI knows them sometimes, but she cannot come and kill herself, so she just looks at them and ignores their Marlianism.
7. The regulars.
Nothing concern these ones. Nothing spectacular to set them apart from the group. They are only there to do CDS and go back their apartments. Let people be kissing, they don't care. Let others be slaying, they are unbothered. Soldier go, soldier come, everyone go dey alright last last